Interlock Stone Paving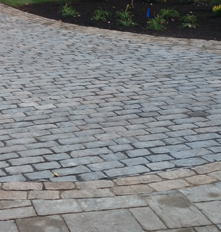 Our experienced crews can handle any interlock project you can imagine. From simple rectilinear patterns to complicated paver quilting.
We have executed many projects in and around Niagara region
- Porches
- Walls
- Walkways
Recent Project
Our recent projects include a large outdoor living area with natural stone steps, interlock inlays and a cedar raised deck. In this project we used a wide variety of materials to compliment a house set in a ravine location. A fireplace is to be installed in the fall to extend how long the home owner can use their new investment.
An existing customer called us in to expand their pool deck from 5 years ago. We were able to match the natural stone and produce a seemless look. The home owner also asked for an extensive raised herb garden. We worked with our stone supplier to produce a custom garden retaining wall 10" tall that appears to be free standing but really has an invisible concrete base